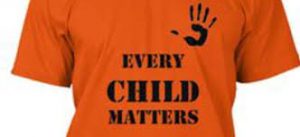 September 30 marks Orange Shirt Day, Canada's National Day for Truth and Reconciliation.  This day honours the lost children and Survivors of residential schools, their families and communities. Public commemoration of the tragic and painful history and ongoing impacts of residential schools is a vital component of the reconciliation process.   The creation of this federal statutory holiday was through legislative amendments made by Parliament. On June 3, 2021, Bill C-5, An Act to amend the Bills of Exchange Act, the Interpretation Act and the Canada Labour Code (National Day for Truth and Reconciliation) received Royal Assent.
During the week of September 26 to 30, Seaforth Elementary will participate in Orange Shirt Day activities.  We will honour the Indigenous children who were sent away to residential schools in Canada and learn more about the history of those schools.  Orange Shirt Day — and every day — is a reminder that every child matters; By educating people about residential schools, we foster respect and mutual understanding with all Indigenous people and all communities, thus helping us fight racism and bullying.
On September 29 we will all wear an Orange shirt.  Please consider sending your child in an orange shirt to stand united in our recognition and respect of Canada's Indigenous cultures.